A Donation Proposal for
The 90th Anniversary of Chongqing University
Dear international alumni,
Greetings from Chongqing University!
We are pleased to inform you that Chongqing University is going to celebrate its 90th anniversary in October, 2019.
Time flies! Over the past 90 years since its founding, Chongqing University has cultivated over 400,000 professionals including a large number of international talents from 146 countries, thus enjoyed a good reputation worldwide.
Once, you came from all over the world to Chongqing University, where you opened a new chapter of your life, made new friends or even found your love for whole life, gained solid knowledge for your future career, and left unforgettable youth memories. After graduation, you have worked hard and displayed your talents and abilitiesin the pursuit of your dreams. Chongqing University cherishes each of you and is proud of every achievement you have made.
Today,Chongqing University is strivingfor its goal of buildinginto a world-class university. Dear international alumni, as the bridge between Chongqing University and the world, and the ambassador of multi-cultural exchanges, your efforts and contribution to the growth of Chongqing Universityhas been greatly appreciated. And your continuous support will be a greater power for its future development. Therefore, on this special occasion of the 90thanniversary of Chongqing University, we sincerely propose to all international alumni to make a donation to Chongqing University to express your gratitude and best wishes.
It is up to youwhether or not, how and how much to donate (although multiples of 9 will be encouraged). You can choose to donate in the name of yourself, your former class, your present company or the local alumni association.The donation can be paid to the designated bank account or by Wechat (refer to the Attachment), which will be used in accordance with relevant rules and regulations to support construction and development of Chongqing University. You can also specify the purposeof your donation.
Dear alumni, thank you very much for your great support andblessings. We sincerely wish you a sound health, a successful career and a happy family life!
School of International Education
May 23, 2019
Attachment:
I. Bank Account for Donation
1. RMB Bank Account
Bank Name:重庆大学教育发展基金会
Bank Branch:中国建设银行重庆沙坪坝支行营业部
Account Number:50001053600050254265
Note:重庆大学国际学院校友某某捐款字样
2.US dollar Bank Account:
Bank Name:China Construction Bank, Shapingba Branch
Account Name:Chongqing University Education Development Foundation
Account Number:50014060200229114265
Bank Address:Xiaoxin Street No.82, Shapingba District, Chongqing
SWIFT CODE:PCBCCNBJCQX
II. Donation through Wechat QR Code
Please scan the following QR code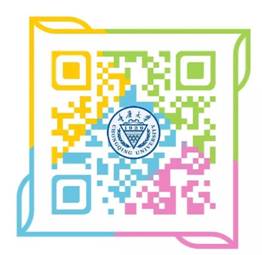 1. Click我爱我院
2. Click我要支持
3. Choose amount of donation, fill your name, email, mobile phone number and college name (School of International Education)
Remark: For donation in a large sum, please contact Ms. Long, School of International Education Tel: +86- 23-65106948