Culture of Chongqing
A World of Museums

Chongqing, an ancient city with a 3,000-year history, is also a city of museums.
The museums in Chongqing house some 300,000 cultural relics. They include the Three Gorges Museum, Anti-Japanese War Relics Museum, Chongqing History Museum, Chongqing Museum of Natural History, Dazu Rock Carvings Museum, Hechuan Fishing Town Museum, Geleshan Revolutionary Martyrs' Cemetery, Museum of Traditional Chinese Medicine, Chongqing Science & Technology Museum and 40 other district/county-level museums.
Three Gorges Museum:http://www.3gmuseum.cn/
Chongqing Science & Technology Museum:http://www.cqkjg.cn/en/index.html
Chongqing Grand Theatre
Chongqing has largely built a four-layer (downtown, local districts and counties, towns/townships and villages/communities) network of cultural facilities.Cultural facilities with capacity over 10,000 reach 268 ㎡and 1,095 cultural facilities offers free admission.
Chongqing Grand Theatre is an important social and cultural infrastructure. It covers an area totaling 100,000 m2, integrating functions like performances of opera, drama, concerts and cultural and art exchanges. As a landmark building of Chongqing's social development, the 3,000-seat theatre is situated just next to China's National Grand Theatre.
Chongqing Grand Theatre:http://www.cqdjy.com.cn/
The Capital of Arts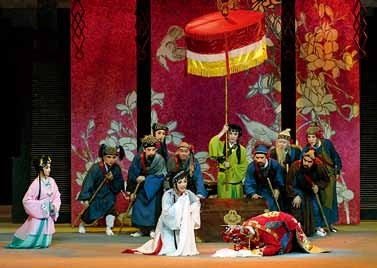 Drawing on the ancient Ba-Yu people's long cultural history, the city posesses artistic atmosphere, and can be called a capital of arts for the prosperity in various fields such as literature and art, drama, novel, sculpture, fine arts and folk arts.
During the Warring States Period (475-221 BC), the songs of Ba people were the most popular songs in the State of Chu. The strong and powerful Ba-Yu dance and sonorous powerful music highlight the character of Ba people, that is, agility and bravery. The ancient writers, scholars and calligraphers of various dynasties, e.g. the poets Li Bai and Du Fu, left Chongqing a rich legacy of literature and arts. In the period of the Second World War, many patriotic authors and artists gathered in what was known as Shancheng (the mountain city).
The unique folk arts in Chongqing which formed in the long process of social work are also numerous. Tongliang dragon dance, the Dazu rock carvings, Qijiang farmer print-making, Xiushan festive lanterns, Liangping lanterns opera, Liangping curtain paintings, Jiulong antithetical couplets, Sanxia (Three Gorges) poems and work songs of the Chuanjiang River. The Baishou (hand-waving) dance of the Tujia people and Ba'nan's ensemble of wind and percussion instruments are all forms of folk art with local characteristics.
The Tongliang dragon dance, dating back to the Sui Dynasty (581-618), reached its peak during the Ming and Qing dynasties. It is a combination of dancing, music, art and handicrafts. The big props, the energetic movements of the dancers and the grand spectacle create a warm and joyous atmosphere. The Tongliang dragon dance has won many national and international prizes.
The City of Heroes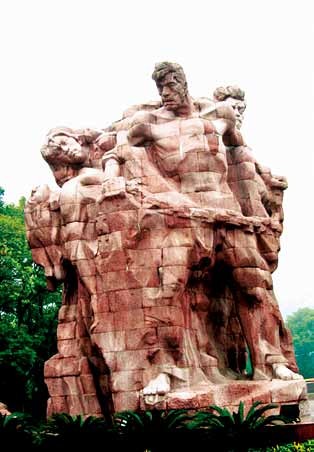 Chongqing is more than a historical and cultural city. It is also a city of heroes. In the Shang and Zhou dynasties, Ba People were famous for their bravery in battlefields. In the Warring States Period, a legend Ba Manzi safeguarded the city by sacrificing himself. During the Song and Yuan Dynasties, Fishing Town Battle was titled by historians in Europe as the place "where God broke his whip", during wars against the Mongol hordes.
During the Second World War, Chongqing was the Commanding Center of the Second World War in the Far East. Over 30 foreign embassies and 40 or more foreign fairs offices with more than 3000 diplomats were located in Chongqing. In spite of more than 200 bombings conducted by the Imperial Japanese air force, Chongqing survived and is still thriving, being listed as one of "Four World Anti-Fascist Cities."
Communication and Media
The Chongqing Daily Newspaper Group is a large-scale media group in Western China with a consolidated asset of over RMB 3 billion. It runs 15 newspapers, 4 magazines and 12 websites
(including Chongqing Daily, Chongqing Evening News, Chongqing Morning Post, Chongqing Economic Times, Chongqing Today magazine and cqnews.net), and over 20 companies engaged in advertising, publishing, printing, real estate, performance, exhibition and tourism. In 1952, Deng Xiaoping wrote the master head and greetings, "To develop the production and to connect the rural and urban areas is the central task of urban work."
The International Channel of Chongqing Broadcasting and Television Group is the first international TV channel in Western China, which started on March 1st, 2007. By now, its programs are broadcasted in the USA, Canada, Australia and Europe (41 countries and regions), Southeast Asia (Singapore, Indonesia and Malaysia) and Hong Kong, and some of its programs are broadcasted in Japan. It has 500,000 oversea subscribers, and was established cooperation with 35 overseas TV stations in North America, Europe, Oceania and Asia. It is serving as a new platform of "Going Global" of Ba-Yu culture and the exchanges with other parts of the world.
Founded in December 2000, CQNEWS Corporation (www.cqnews.net) is a federated media website integrating newspapers and periodicals, broadcasting, television, network, mobile phones, weibo (micro-blog) and outdoor LED.
It has a daily influence of 20 million people, and ranks at around 2000 on the Alexa global ranking. In addition, it ranks 4th nationwide and 1st in Western China among all provincial-level news websites.
Emerging Science, Education and Culture
Chongqing has made remarkable progress in terms of scientific innovation. The comprehensive improvement of science and technology of Chongqing ranked 13th in China and 2nd in Western China. Great innovation achievements have been made, such as the genome frame diagram of domestic silkworm, which is the first in the world, focused ultrasound, HEV, heat-resisting hybrid rice breeding, superfine electronic glass fiber, etc. In 2012, 234 hi-tech companies emerged, achieving an output of patented products of RMB 180 billion yuan; these companies launched 836 new hi-tech products, and hi-tech companies' sale reached RMB 142.9 billion; the output value of new products from industrial companies above designated size reached RMB 410 billion; the investment capacity of Chongqing Science & Technology Financing Platform reached RMB 6 billion; 2,426 new patents were granted; the Per 10,000 invention patents ranked 9th nationwide; and the volume of trading on the technology market ranked 1stin Western China.
Chongqing has realized a diversified education structure. Chongqing has 11,200 schools of different levels and types (including 67 higher-learning institutions). These schools employ 381,200 teachers and staff and enroll 6,067,710 students (including 46,600 graduate candidates and 623,600 undergraduate and associate degree students).
Cultural industry is undergoing balanced development. A four-layer (downtown, local districts and counties, towns/townships and villages/communities) network of cultural facilities has largely taken shape. The Cathay Art Center has been completed and put to use. The year of 2012 saw the production of 7 new dramas and 19 films and TV serials. The opera "Fishing Town" and TV serial Liberating the Southwestern Region won the "Five Ones Program" award;the acrobatic drama Hua Mulan and local dialect drama Families in the Three Gorges Area were selected as two of the top 10 outstanding national dramas. The number of digital TV subscribers reached 3.1 million, and 2.35 million subscribers are covered by two-way network. All villages have the access to radio broadcasting and all households have access to TV signals. The City-wide box office reached RMB 547 million, up 36.4% year-on-year. The value added of cultural industry accounts for 3.5% of Chongqing's GDP. Chongqing Performance and Art Group was ranked as one of China's top 10 performance and art organizations. Privately-owned cultural companies outdid state-owned ones in terms of the number of companies and registered capital
The sports fields and facilities are being upgraded. There are altogether 38 stadia, 42 gymnasia, and 38 swimming pools at the county (district) level. "One stadium, one gymnasium and one swimming pool" are available in 20 districts and counties. The number of fitness venues and facilities was increased significantly. The year 2012 saw the completion of 900,000m2 of new sports fields. 152 hiking pathways have been built under the name of "National Citizen Fitness Outdoor Activity Base" given by the General Administration of Sports of China. Per capita sports fields increased from 0.51m2 five years ago to 1.1m2 .
The public health industry in Chongqing develops rapidly. There are 12,928 public health institutions (including village clinics), of which 1,405 are hospitals and health centers, and there are 131,714 health professionals.
Marketing and Promotion of the City Image and Cultural Exchanges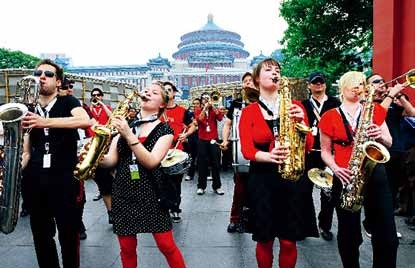 In 2012, a number of large events were held successfully, including "Stories of Fortune Global 500 Companies in Chongqing", "Chongqing and World Cultural Carnival", Official Ceremony for Awarding the World's Hot Spring Capital, the First Cloud Computing Fair, Debut of "Wulong Impression" and global tour exhibition of Dazu Rock Carvings. There are 246 party and government press spokespersons in Chongqing. Chongqing Daily has launched four overseas editions, namely US edition, Europe edition, Australia edition and Indonesia edition. The international channel of Chongqing TV has become more influential. Cqnews.net has launched 8 foreign language channels, including English, French, Japanese, etc. The Hong Kong based Bauhinia and Taiwan based Chinataiwan has set up their journalist stations in Chongqing, and altogether 8 foreign media have their resident offices in Chongqing. The Chongqing Channel of Singapore Lianhe Zaobao Network and the Chongqing Channel of Takungpao.com were opened respectively with over millions of hits.
198 cultural exchange programs involving 1,100 people, including Sichuan Opera, acrobatics, folk music and some intangible culture heritages were performed or displayed in 29 countries and regions like Germany, and Spain; 137 programs involving 2,299 people from 21 countries and regions like Italy and UK came to Chongqing for cultural exchanges.
An Attractive City of Delicious Food
Chongqing, as one of the birth place of world-famous Sichuan cuisine, is a city of delicious food. The Chongqing hotpot is enjoying high reputation, featuring pungencies, spice, and freshness. Chongqing has officially been named as the City of Hotpot in China. Sichuan cuisine originates from the ancient Ba Kingdom and Shu Kingdom, stressing the color, aroma, taste and shape of the food. It features various forms, subtle changes and a wide range of materials. Chongqing food belongs to Sichuan cuisine, which is one of the four major cuisines in China, taking up an important position in the history of Chinese catering culture. One chicken can be made into a famous dish named as Quanshui Chicken; one piece of duck intestine into Yangchang King; one slice of fish into Suancai Fish Soup.
Colorful Folk Customs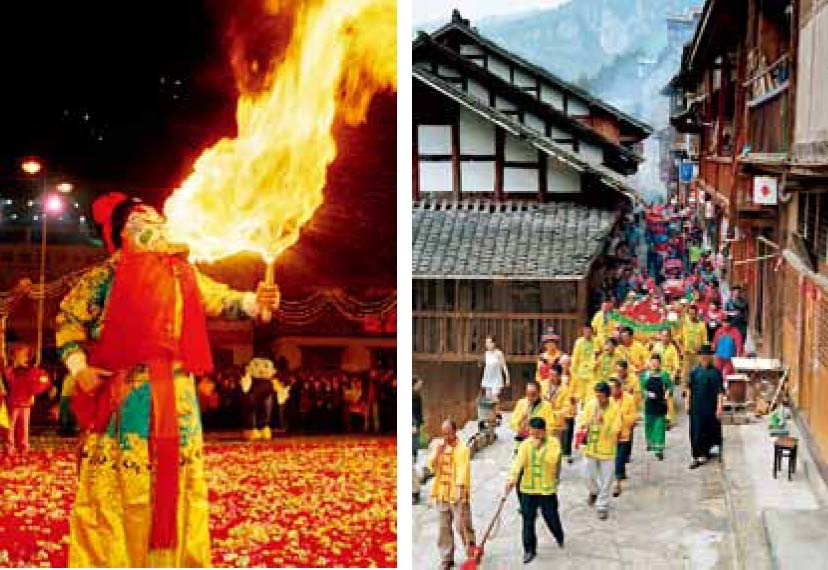 There are many ethnic groups in Chongqing, and they still reserve their own traditions and customs. The Tujia People living in Qianjiang keep traditional festivals and customs like New Year celebration, Nuo Opera, hand-waving dance and flower-lantern dance. The New Year celebration is the time when Tujia People offer sacrifice to their ancestors, and hand-waving dance is developed from such sacrifice ceremony. The dance and hand-waving hall relic are still well-reserved in the three towns, Daxi, Youchou and Houxi along the Youshui River in Youyang. On the Peach Garden Square in Youyang County, thousands of local people dance to the music of hand-waving dance when it plays. From the 3rdday to the 15th of the first month of the lunar year, Tujia People in Xiushan form flower-lantern teams, lifting the flower-lanterns and playing drums and gongs to celebrate the lunar new year. The hand-waving dance is becoming famous around the country, and so are Luoer Tune of Shizhu-The Sun Rises Merrily and the flower-lantern tune of Xiushan- Huangyang Shoulder Pole. The colorful folk customs are now an important part of the tourism resources of Chongqing.