Economy of Chongqing
Industry
As a significant national defense base and an manufacturing industry, Chongqing enjoys strong processing capacity and comprehensive industrial supporting ability after 60 years of development.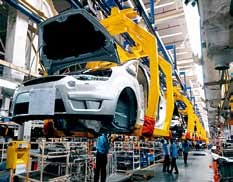 Today, Chongqing's R&D and production ranges from heavy trucks, light trucks, mini cars to sedans. Currently, the municipal government is moving toward the goal of making Chongqing a famous Auto City and the "Capital of Motorcycles".
Chongqing's equipment manufacturing industry enjoys an important position nationwide. Chongqing is an important production base for instruments. The Chongqing-based Silian Corporation is China's largest automation instruments maker. Chongqing is also the largest base in western China for shipbuilding and relevant R&D. The gear cutting machines made in Chongqing are of the highest quality in China.
International IT companies like HP, Acer, Guanta, and Inventec already have a presence in Chongqing. The fast-developing IT industry is becoming a new pillar industry of Chongqing.
Chongqing is also an important chemical production base. The natural gas and fine chemical industries are two characteristic sectors. The municipality also acts as the largest production base of paints in southwest China. The petrochemical is becoming a new growth sector for Chongqing's economy.
Chongqing has the largest aluminum material processing base in China. For example, Southwest Aluminum (Group) Co, Ltd. is a comprehensive aluminum processing enterprise that has the largest production scale, most advanced equipments and most complete production varieties. Of its more than 10 newly-developed products have reached international leading level. Meanwhile, Chongqing is also one of the three largest glass production centers in China.
Chongqing is also an important medicine industry base as well as a medicine distribution hub. Currently, medicine products from Chongqing are marketed in over 60 countries and regions.
In 2012, the total industrial output of Chongqing topped RMB 1.5 trillion yuan, reaching RMB 1525.83 billion.
Information Industry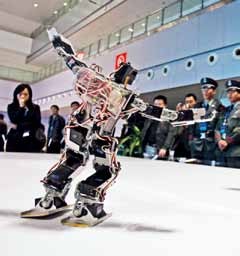 Currently, a "5 6 700" pattern has been formed in the IT industry. 5 brand owners, including HP, Acer, Asus, Toshiba and Cisco, 6 OEM manufactures, including Quanta, Compal, Wistron, Inventec, Foxconn and Pegatron, and around 700 parts and components producers have their operations in Chongqing.
In 2012, 42 million laptops were produced in Chongqing, up 68% year-on-year, and it is safe to say that "one of out five laptops worldwide is made in Chongqing." In the same year, mass production of printers and monitors was realized, and over 9 million printers and 8 million monitors were produced. The output of communication equipment, computers and other electronic devices added up to RMB 150.965 billion yuan, up 89.9% year-on-year, contributing to 6.2 percentage points of Chongqing's industrial output growth and becoming the city's first driver of industrial growth.
Post and Telecommunications Industry
Since becoming a municipality, the telecommunications industry of Chongqing has basically completed the transition from stimulation technique to digital technique, from telephone network to information network, from narrow-band network to wide-band network, and from single network to integrated and intelligent network. A modern fundamental network covering the whole municipality has been established, integrating digital transmission and program-controlled exchange. It mainly relies on optical cable and with satellite and digital microwave as supplement. At present, there are nearly 20.69 million mobile phone subscribers, over 5.75 million landline subscribers and 20.99 million Internet subscriber in Chongqing. Chongqing has become an important postal and telecommunication hub in Western China.
Commerce and Trade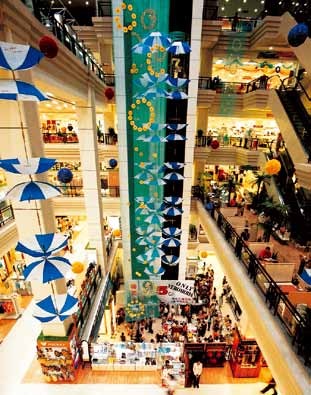 Thanks to its prime waterway locations along the Yangtze River, Chongqing has long been an important commercial and logistics center along the upper reaches of the Yangtze River and in China's southwestern regions. In recent years, Chongqing has become more accessible to surrounding regions thanks to the implementation of a strategy to develop prosperous business districts, market areas, and logistic channels and revitalize large companies. In 2012,the total retail sales of consumer goods in Chongqing reached RMB 396.1 billion (2.4 times that of 2007), up 16% over 2011 with a growth rate ranking among the best nationwide; the total sales of goods reached RMB 1214.8 billion (3.1 times that of 2007), up 21.5% year-on-year; the commercial value added reached RMB 100 billion (2.2 times that of 2007), up 10.3%; the turnover of hotels and catering industry reached RMB 79.2 billion (3.4 times that of 2007) with a year-on-year growth of 21.9% and this industry employed 3.7 million people, ranking the top among non-agricultural industries. Chongqing's network system of commerce, trade and logistics has been largely established, and its capability of ensuring market supply has been constantly strengthened. The city is developing towards the "capitals of shopping, food and convention and exhibition".
Agriculture
Chongqing enjoys all-round development in all fields of agriculture, forestry, animal husbandry and fishery.
Chongqing is also one of the largest citrus producers on the upper and middle reaches of the Yangtze River. The citrus production reached 2.03 million tons in 2012, ranking 8thnationwide. And fruits such as Fengjie navel orange, Hechuan red orange, Kai County glorious orange, Jiangjin sweet orange, Liangping shaddock and Wansheng kiwifruit sell well all over China.
Pickled mustard root, one of the three famous preserved vegetables worldwide, originates from Fuling, Chongqing. It has a history of more than 100 years. Furthermore, the Wujiang Pickled Mustard Root has been registered by its producer in over 20 countries, including the U.S., Japan, and France.
Chongqing also has a long history of tea production. It boasts many kinds of famous tea. For instance, Xiuya Tea of Yongchuan is a favorite of customers; Black Tea of Nanchuan has won the golden prize of Worldwide Food Exposition in Brussels. The Longzhu Tea of Kai County was listed as a "tribute tea" in the Tang Dynasty.
Financial Industry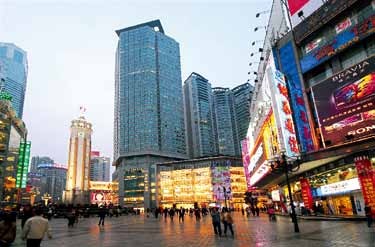 Chongqing is actively making efforts to become a financial center along the upper reaches of the Yangtze River. It leads China's west in terms of its concentration of financial resources. In 2012, the value added by the financial industry grew by 20.8% and accounted for 8% of the city's GDP; the total value of all financial assets exceeded RMB 3 trillion yuan, with deposits and loans topping RMB 1.9 trillion and 1.5 trillion respectively; there are over 700 financial institutions and innovative institutions, and the capitals held by incorporated institutions added up to over RMB 120 billion yuan; 10 types of innovative institutions, including auto finance firms, financial firms and micro-credit firms have gradually taken shape. Chongqing also ranks first in China's west in terms of financing services capability. In 2012, the ratio of loans to GDP was close to 1.4:1, and RMB 360 billion yuan was raised from financial institutions, of which 30% was raised from non-banking institutions. In term of innovation, Chongqing also leads China's west. The financial elements market has been running well, with a cumulative trading value exceeding RMB 360 billion yuan, and Chongqing has already embarked on a path of cross-regional development. Offshore financial clearing totalled over USD 80 billion, an increase of 1.1 times year-on-year; Chongqing has been a pilot for various major financial innovation programs of the country. It was one of the places to pilot a number of innovative products, including SME private placement bonds and regional leader joint bonds; the rural "Three Rights"mortgage financing and micro-firm start-up financing are well under progress. In addition, Chongqing also ranks among the best nationwide in terms of financial assets quality with the NPL ratio being 0.47%.
Transportation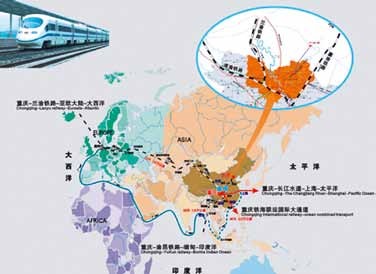 Highway Thoroughfare Everywhere
Chongqing has over 119,000 km of highways, of which 1,909 kilometers are expressways, shaping a skeleton network of "two rings and eight-direction expressways" with the expressway network density ranking first in China's west. The goal of "4 hours from anywhere of Chongqing to downtown Chongqing and 8 hours from surrounding capital cities to downtown Chongqing" has largely been realized. A number of new expressways totaling a length of 1,000 km are under construction. The total length of inter-county highways is 3,000 km and all counties in Chongqing can be accessed by high-grade highways.
New Silk Road – Chongqing-Xinjiang-Europe Railway Corridor
Chongqing has a number of railways, including the Chengdu-Chongqing, Xiangfan-Chongqing, Chongqing-Guiyang, Chongqing-Huaihua and Nanchuan-Fuling railways, connected to the nationwide railway network. As of the end of 2012,the length of railways in Chongqing was 1,450 kilometers.Currently, the Lanzhou-Chongqing railway, Chongqing-Lichuan railway, Chengdu-Chongqing Passenger railway, new Chongqing-Guiyang railway, second Chongqing-Huaihua railway, and Sanjiang-Wansheng-Nanchuan railway are well under construction. The Chongqing-Zhengzhou and Qianjiang-Zhangjiajie-Changde railways are in the preliminary phase. After completion of these projects, the length of railways in Chongqing will reach 3,200 km, and the goal of "getting to the neighboring areas within 4 hours and the sea within eight hours" will have been fulfilled. By then, Chongqing will have the largest passenger train station and container marshalling station in China's west.
Chongqing-Xinjiang-Europe railway is a new strategic corridor for transporting goods from China to Europe and is therefore reputed as the New Silk Road or Third Eurasian Continental Bridge.
The total length of the railway is 10,769 kilometers, running from Chongqing to Dazhou, Ankang, Xi'an, Lanzhou, Urumqi and Alataw pass, and then enters Kazakhstan, Russia, Belarus, Poland and finally Duisburg Germany. This corridor for railway transport was created under the joint coordination of the railway departments and customs of six countries. It is a new strategic corridor for sending Chongqing-made computers, machinery and electric products and automotive spare parts to Europe. It is characterized by "one customs clearance", rapidness, safety and stability. "One customs clearance" means that after the goods are loaded under the supervision of Chongqing Customs, there is no customs check until the train arrives at the destination; "rapidness" means the total travel time from Chongqing to Duisburg is 16 days; "safety" means that the train is subject to whole-way GPS tracking; and "stability" means the domestic section of the Chongqing-Xinjiang-Europe railway has been included in the Ministry of Railway's "100 Fast High-Value Goods Trains and 1,000 Direct Commodities Trains" Strategic Program.
Water Transportation
The largest inland port city in Western China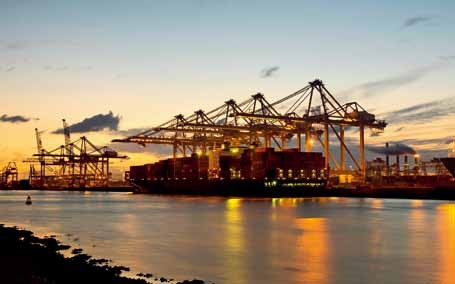 Chongqing is the largest inland port city in western China and on the upper reaches of the Yangtze River. The Yangtze River, Jialing River, Wujiang River and their tributaries form a Chongqing-centered "one-river, two-tributary" water transportation network. There are a number of important ports and passenger cargo docks along the rivers such as Chongqing Port, Wanzhou Port and Fuling Port, which have developed combined land and sea transport from Chongqing to overseas via Shanghai and made a channel available to 10,000 tone vessels. By 2012, the total length of water ways in Chongqing amounts to 4,451 km. The annual cargo throughput capacity of the ports in Chongqing reached 145 million tons, including 3 million TEU containers. Chongqing has essentially become the water transportation hub of the upper reaches of the Yangtze River.
Air Transportation
One of top ten airports in China and one of top 100 airports in the world
There are one large airport, Jianbei International Airport, and two small ones, Wanzhou Airport and Qianjiang Airport in Chongqing. In 2012, these airports had a throughput of 22.42 million passengers and 270,000 tonnes of cargos and mails. Jiangbei Airport achieved a passenger throughput of 22.06 million, up 15.8%, ranking ninth nationwide and a cargo and mail throughput of 269,000 tonnes, with a growth rate of 13.1% ranked first among the top 10 airports in China. Jiangbei Airport accommodates flights to 120 cities, including 88 in China and 32 overseas. In 2012, the airport launched new international flight routes, e.g. from Chongqing to Helsinki, and new international freighter routes to Luxembourg, Sydney, Chicago, etc. So far, Jiangbei Airport operates altogether 15 international passenger routes and 18 international freighter routes.